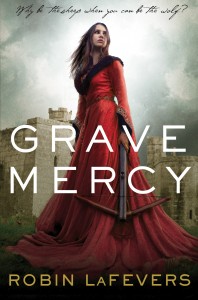 Synopsis via RobinLaFevers.com:
Why be the sheep, when you can be the wolf?
Seventeen-year-old Ismae escapes from the brutality of an arranged marriage into the sanctuary of the convent of St. Mortain, where the sisters still serve the gods of old. Here she learns that the god of Death Himself has blessed her with dangerous gifts—and a violent destiny. If she chooses to stay at the convent, she will be trained as an assassin and serve as a handmaiden to Death. To claim her new life, she must destroy the lives of others.
Ismae's most important assignment takes her straight into the high court of Brittany—where she finds herself woefully under prepared—not only for the deadly games of intrigue and treason, but for the impossible choices she must make. For how can she deliver Death's vengeance upon a target who, against her will, has stolen her heart.
Miss LaFevers describes
His Fair Assassin
series as her "YA books about assassin nuns in medieval France". And if that doesn't pull you in, it is full of intrigue, murder, and self discovery. Don't let the "YA" scare you away. It is strong on plot, character development, and plenty to keep you intellectually engrossed.
When I read the synopsis, I didn't realize it was set in medieval times. I was actually expecting a fantasy setting. But I was so engrossed in the story that I didn't realize it wasn't what I expected until I was halfway through the book.
Ismae is a young girl dealt a very difficult life. But with the kindness of one person, her whole life is turned around. No, she is not placed into a life of luxury, but she is taught that she is not worthless and she has much to offer the right people. In this case "assassin nuns" (it sounds so funny and weird to call nuns assassins). She is taken in by nuns who serve the God of Death-St. Mortain. They teach her that she has gifts bestowed upon her by St. Mortain; her gift is a very rare gift.
She is thrust into a world of politics, subterfuge, and betrayal. It is here that she learns who and what she truly is.
I had difficulty putting this book down. I have to admit, I got annoyed whenever something interrupted my reading: the dogs going in and out, my son wanting to show me something, my husband wanting to tell me about his day, and the worst one: having to go to work! So, when you start reading this book, make sure you are left alone or seclude yourself. You will find yourself engrossed in medieval France with assassin nuns!
I received this book free in exchange for an honest review. Thank you Miss LaFevers and Houghton Mifflin Books for this opportunity.
Happy Reading!!