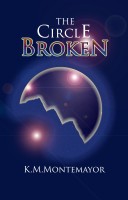 Synopsis via Amazon:
Without Charlie, Lilly can find no reason to live. She throws herself into her studies and eventually becomes a doctor. But hiding behind her career doesn't work. Despite all her efforts to forget the past, she still finds herself haunted by her memories of him. Charlie's decision to be with Lilly has cost him his freedom, and perhaps his sanity. His doctor finds his aberrant attraction to an Earthan fascinating and begins to experiment on him. The unorthodox treatment methods take a toll and Charlie finds himself questioning everything he ever believed about Lilly. A rebel group is gaining power on Sentria. The New Way promises the people more control over their own lives. Will the people finally be able to have freedom? Is that even a possibility for a planet who has been oppressed for centuries?
This is Book 2 of The Circle. Charlie and Lilly's story continues.
Lily is left on earth thinking Charlie is dead while Charlie is on Sentaria being tortured. Charlie is considered mentally ill because he thinks his One is an Earth girl. He is sentenced to 10 years in a mental hospital. His doctor and nurse utilize Charlie to try and make a name for themselves. While Charlie and Lily are miserable and trying to live without each other, a new, radical group is conspiring to overtake the Sentrian government.
Miss Montemayor keeps the momentum going in The Circle Broken. It is almost impossible not to feel sad for Lily. Here she is living with the lie that the "man" she loves is dead. She mourns, suffers, and tries hard to continue living.
Miss Montemayor's detailed description of Charlie's torture and suffering makes it impossible for the
reader NOT to feel horror and anger at what he suffers. As a matter of fact, I wonder how she came up with everything he went through. Hmmmm.
All I can say is you can't read book 1 and not go on to book 2.
Happy Reading!